BLACKHEAD REMOVER VACUUM
🗸 Sucks out blackheads clogged in your pores to deeply cleanse your face. 
🗸 Increases blood circulation for fuller and brighter skin. 
🗸 Gets rid of oils, whiteheads, blackheads, dead skin, and more.
🗸 Treats dry, sagging skin and wrinkles to make you look younger.
🗸 Helps prevent breakouts and oily skin, leaving you worry-free.
Blackheads and acne can be distracting and embarrassing...Our pores get clogged with what contains oils, dirt, and residue from our every-day lives. When left untreated, they grow and expand, getting bigger-and-bigger on the skin.
Clogged pores and blackheads can be easily managed at home without scarring from picking or popping with your fingers. All you need is our Blackhead Remover and 5 minutes of preparation.
Blackheads or comedones are hidden deep in our pores. The wrong method used for blackhead extraction might not only hurt your skin, but also leave some residue behind in the pores. 
Since blackheads are large at the bottom of the pores and small at the top, proper vacuum suction can thoroughly suck out blackheads, whiteheads, acne, dead skin, and clean your pores. Your skin immediately appears vigorous after use. 


SO HOW EXACTLY DOES IT WORK?
Our blackhead remover tool is designed to be a professional alternative to beauty salon treatments. It helps to remove blackheads, acne and clean the face deeply and it is suitable for treating dry skin, sagging skin, dull skin and also wrinkles. There is a choice of 5 different beauty heads including microdermabrasion head. Vacuum function removes blackheads on nose, chin, forehead and cheeks and increases blood circulation in the skin.
WHAT TO EXPECT WHEN USING THE BLACKHEAD REMOVER VACUUM?
Reduces the appearance of pore sizes


Leaves your skin soft & flawless when it's time to apply makeup


Allows your skin to absorb skincare products up to 20x deeper


Helps with exfoliation, skin rejuvenation & spot cleaning


Provides you with the same results as professional, in-salon microdermabrasion treatments


Makes skin look and feel beautiful, younger and radiant


All from the comfort of your own home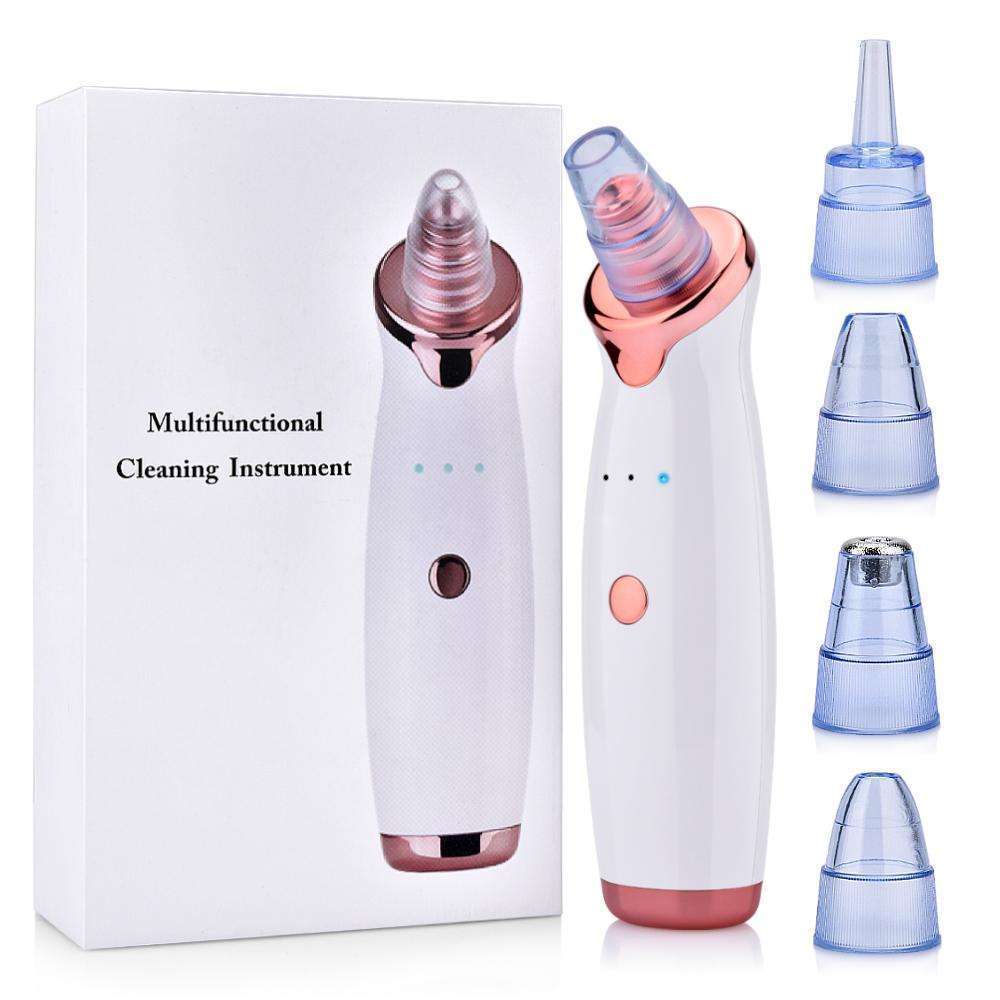 HOW TO USE
1- Charge the device for at least 8 hours for first-time use then you can charge it for 2 hours each time you want to use it

2- For an effective pore removal, place a hot towel on your face for 5 minutes to open up (Ease) pores/blackheads prior to usage, Or simply purchase our face steamer product which works as a companion product to this blackhead vacuum.

3- Choose which suction head you would like to use
3- Press and hold the power button for 3 seconds to turn the Pore Vacuum on
4- Press one time on the power button to change the suction levels

5- Gently move the device slowly along the skin, working your way through the entire face.
Note: Do not leave the suction head on one spot for more than 3 seconds to avoid skin bruising.
THAT'S HOW EASY IT IS!
Frequently Asked Questions
How long does the battery last after it has been charged?
It can last up to 2 hours of consistent usage.
Is it rechargeable?
Yes, The Blackhead Remover comes with a USB cable for recharging.
Is the Blackhead Remover Vacuum suitable for all type of skin?
Yes, The Pore Vacuum is suitable for all types of skin. Once a week for dry skin or sensitive skin, twice for oily skin/ mixed skin.
I have been having a lot of blackheads on my face, does this Blackhead Remover Vacuum works effectively?
Yes, the Blackhead Remover Vacuum works effectively to remove your blackheads, pimples, and pores.
Is it waterproof?
This blackhead remover vacuum is not waterproof, you need to take down the beauty heads and clean it alone, leave the machine away from the water
100% Secure payment with SSL Encryption.
Shipping time: Please check our shipping policy
Tip: Buying 2 products or more at the same time will save you quite a lot on shipping fees.